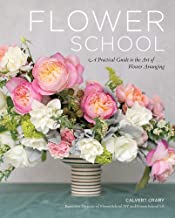 Calvert Crary's book, Flower School, is a philosophical guide to flower arranging that urges the reader to take joy in the process of making arrangement and experiment often. The book covers all the basics such as selecting tools , choosing the style and colors, selecting, buying, and conditioning the flowers, and pairing the flowers with the right container. The longest chapter, "Techniques for Arranging", describes the common styles and provides step by step directions for making various arrangements
One of the most unique aspects of the book are the personal profiles of four prominent floral designers: Oliver Giugni, Victoria Ahn, Kiana Underwood, and Ingrid Carozzi. The designers answer such question as: What makes your style unique? Where does your color inspiration come from? What makes a great designer? and How do you find your inspiration? Oliver Giugni and Ingrid Carozzi go on to give step by step instructions for arrangements.
The arrangements presented in the book tend to be tight modern or loose garden designs. The text is chatty, easy to understand and enhanced by many photographs and diagrams. Insets containing professional tips are highlighted throughout the book.
The author, Calvert Crary was formerly a fashion and editorial photographer but transitioned into the floral industry and opened and ran three flower businesses in New York City. He is currently the executive director of the FlowerSchool NY and FlowerSchool LA, where classes, workshops and special programs are offered to beginners as well as advanced designers.
To buy Flower School from Amazon, click here.



Including advice from the school's well-respected master florists, and featuring beautiful color photographs of each unique arrangement, Flower School offers invaluable, insider tips and tricks that can only be gained through years of experience, providing readers with the fundamental tools and education they need to create homemade floral arrangements that are on par with any professional design.