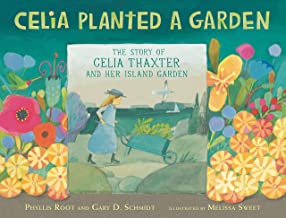 Phyllis Root and Gary Schmidt introduce young readers to the life of Celia Laughton Thaxter, New England poet, artist, gardener, and nature lover, in their book, Celia Planted a Garden. Written for children in grades K-4, the book tells the story of young Celia who lived first on White Island and then on Appledore Island, located off the coast of New Hampshire and Maine. Although the islands were barren and bleak, Cilia found beauty in the flowers and animals that lived there and planted gardens on each island. Years later Celia married and moved to the mainland but she always remembered her gardens and wrote poems about the garden on Appledore Island, grew flowers for her windowsills, and painted pictures of flowers and sea scenes from her memories. Eventually Celia returned every summer to have a garden on Appledore Island again.
This beautifully written biography of Celia Thaxter is enhanced with the colorful art work of Melissa Sweet who depicts Celia and her flowers and animal friends with sensitivity and warmth. Side panels feature hand-drawn quotes from Celia's writings in large fonts. Supplementary materials include a brief biography of Celia, a timeline of her life including the publication dates of her major literary works, a bibliography, and pictures and a map of the Isles of Shoals. Celia's love of nature and her garden fill every page and provides inspiration for adults as well as children.
To buy Celia Planted a Garden from Amazon, click here.