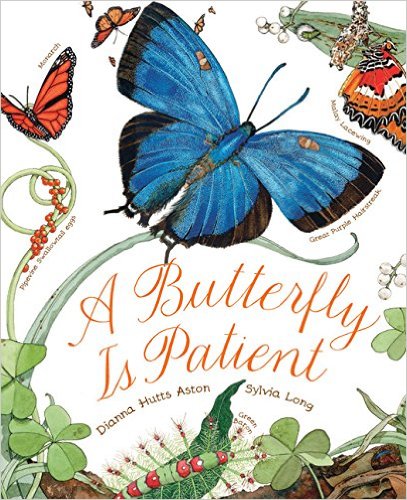 As a gardener I rejoice at seeing butterflies in my garden and love to share my experience with my grandchildren. Dianna Hutts Aston's book, A Butterfly Is Patient, is the perfect way to do so. There are many books available for children about butterflies but this one combines lavish artwork and a simple informative text in a unique way. Written for children five to eight, it can be enjoyed by both younger and older children as well as by adults.
From beginning to end the book explores the beauty and wonder of butterflies. Each two page spread has a simple statement in large lettering about butterflies such as "A butterfly is helpful", A butterfly is thirsty.", and "A butterfly is scaly." A paragraph or two explains and elaborates on the statement and a colorful watercolor illustration graphically reinforces the information. All the butterflies, in egg, immature, or adult form, are labeled. We learn about the life cycle of a butterfly including instars and pupae, the benefits of wing scales, and the ways butterflies protect themselves from predators. The front pages show the caterpillar forms of the thirty four butterflies shown in the text and again in the end pages. Fabulous!
To buy A Butterfly Is Patient from Amazon.com Click Here.