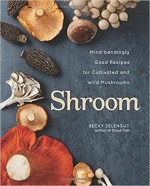 If you look carefully at the mushroom offerings in grocery stores you have probably noticed that there are more and more varieties offered for sale either fresh or dried. Button, cremini, and portabella are standard fare but others like shitake, chanterelle, and oyster mushrooms are increasingly making their presence known and specialty markets are offering even more kinds. If these many different mushrooms are unfamiliar to you or you don't know how to use the ones you know, Becky Selencut's book, Shroom, will provide you with a broad education on the subject as well as specifics for fifteen of the most flavorful , easy to find mushrooms, including recipes to showcase your knowledge.
Selencut is a very pragmatic writer and her introduction to the book cuts right to the chase and can be considered a primer on the subject. In addition to providing information about ingredients and cooking equipment, she provides seven basic concepts for dealing with mushrooms, directions for drying rehydrating, and freezing them, plus a list of links to online videos. A delightful game, What Shroom are you?, concludes the introduction.
The remaining portion of the book is devoted to specific mushrooms: button/cremini/portabella, beech, oyster, king trumpet, shitake, maitake, lion's mane, morel, chanterelle, hedgehog, porcini, lobster, black trumpet, truffle, and matsuta. For each mushroom specific information is given concerning their appearance and flavor, alternative names, season of availability, buying tips, cleaning, storage, preservation , cooking notes, best use, substitutes if they are not available, and interesting facts. These factoids are especially beguiling and include such health related item as an anti-tumor properties, cholesterol lowering potential, and anti dementia effects.
Each chapter offers five recipes with wine pairings for the specific mushroom being considered: two for the beginner, two for the intermediate, and one for the advanced cook that wants a challenge. Being a chef, the author has access to a large selection of ingredients and presents a beginners button mushroom recipe that includes either pomegranate juice or pomegranate molasses. Frankly, I stock neither and was a bit put off by the recipe. The beginner's recipe for oyster mushrooms (oyster mushroom ragout with cognac and herbs) includes 19 ingredients but none are out of the ordinary and the procedure is likewise ordinary. For the gourmand the most difficult recipe for morels is seared douglas fir-scented squab with Pinot-Noir-moral sauce and braised cabbage, with 24 ingredients. The good news about all this is that there is a wide variety of recipes that could improve anyone's repertoire. Another great plus for the recipes is their variety. They are drawn from many different cuisines including Japanese, Indian, and Italian, and two thirds are vegetarian.
Although some of the recipes are complicated the author writes in a conversational, friendly style that helps to overcome some of the difficulties that might face a cook interested in trying new mushrooms recipes. Selencut has a good sense of humor that makes her recipes approachable adding comments like "forget the whole preservation thing and spread the duxelles on crostini and call it a day." Nice attitude for those who might have trouble creating some of the recipes. There are a limited number of photographs featuring the recipes and more would be helpful as well as inspiring. If you are interested in mushrooms, this is an excellent choice to thrust you into the culinary world that lies ahead.
To buy Schroom from Amazon.com Click Here.