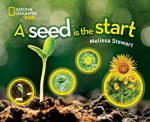 Melissa Stewart's book A Seed is the Start  treats young readers to a botanical lesson about fruits and seeds.  Her refreshing approach focuses on the different ways a seed can be transported and spread from place to place and emphasizes the many wonderful adaptations that have occurred.  Employing a lot of action verbs like hop,splash, and explode, Stewart creates a lively narrative that captures the imagination of  young readers while still being true to the biological nature of seed dispersal.  She uses numerous examples of all sort of fruits from well known plants like dandelion,  Queen Anne's lace,  and blue cornflower to the more exotic sandboxtree, Himalayan balsam, and red hamburger bean vine to illustrate her points and introduce her readers to the diversity of the plant world.  
A Seed is the Start is visually appealing with a lot of green background color and detailed nature photographs of plants, fruits, and seeds.  The font is varied in style, color and size which enlivens the text and creates more interest and energy to propel the narrative along.  A short but significant glossary introduces readers to terms like burr, nut, and seedpod and an end section provides resources for further study.  In between, facts about seeds the life cycle of plants abound.
To buy A Seed is the Start from Amazon.com click here.