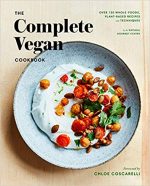 From the National Gourmet Center comes this compendium of basic techniques of plant based eating and recipes that reflect the philosophy of the Institute that the food we eat effects our overall well-being.  Based on this premise, mindful eating involves food choices that are whole, seasonal, local, traditional, balanced, fresh and delicious.  Drawing from both Eastern and Western traditions, the book explores many different techniques and food to produce a large array of plant based foods that will appeal to anyone interested in healthy eating.
After explaining the way to source the best-quality whole-foods ingredients and the fundamental techniques and equipment needed to prepare them, the authors turn next to the basic recipes for such items as nut milk, shiitake bacon, and stocks.   The rest of the book presents recipes that are grouped by function:  snacks and starters, soups and stews, salads and sides, weeknight dinners, weekend feasts, weekday breakfasts, weekend brunches, desserts, and juices and brews.  Especially interesting are the almond pulp crisps and rosemary white bean puree in the snack section, watermelon gazpacho and chilled Mediterranean grilled vegetable soup in the soups and stews part, and Bengali-style braised greens and masala spiced potatoes in the salad and sides chapter. Weeknight Dinners gives us yucca focaccia and General Tso's broccoli bowl with black rice and spicy edamame while Weekend Feasts introduce us to sweet potato sushi rolls and butternut squash and pepita blue cheese canelloni.  Breakfast offerings include several smoothies as well as amaranth porridge and raspberry chia jam.  If brunch is more your style, consider the chickpea crepes with curry filling and mango sauce or the sweet potato waffles.  Dessert offerings round out the recipe repertoire and include several ice creams and cookies as well as a coconut lime cream tart, and apple galette.  Thirsty?  Try the mango lassi or pomegranate, blueberry, and ginger elixir in the final chapter.
All the recipes include a helpful introduction that gives background on the dish and explains some of the ingredient choices or techniques.  The ingredients are listed  on one side of the page while the step by step instructions are provided on the other.  Most recipes also include full color photo of the completed dish and a chef's tip to aid preparation.  Icons with each recipe indicate gluten-free, soy-free, and nut-free when applicable.
Even as an omnivore, I find many of the recipes exciting.  They draw inspiration from many cuisines and then introduce new flavor combinations that make the dish unique.  Yes, some of the ingredients are unfamiliar and not in my grocery stores but with Internet shopping virtually no ingredient is out of reach.  And yes, some of the recipes are complicated while others are not but all of the recipes off an opportunity to explore, extend, eat healthy.
To buy The Complete Vegan Cookbook Click Here.