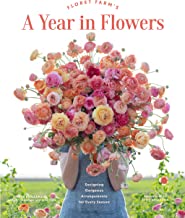 Flower farmer and florist, Erin Benzakein, shares her experience and expertise in her book, A Year in Flowers. She includes the basics of floral design, essential techniques and detailed instructions on how to create seasonal arrangements for a variety of occasions. Special attention is given to garden plants that can be used in bouquets and other floral projects.
Benzakein begins by discussing work space setup, tools, mechanics, containers, sourcing of floral materials. and caring for cut flowers. She goes on to consider design fundamentals and spends considerable space on color including all the different shades of green and other colors provided by foliage, and the techniques of laying and color bridging. In order to make an interesting and beautiful garden style arrangement, Benzakein suggests using plant material from each of six different groups: structural foliage, supporting ingredient, textural ingredient, supporting flowers, focal flowers, and airy accents. Extensive examples of each group are given for each season, each accompanied by a picture. Over 2/3 the book is devoted to constructing arrangements with a list of ingredients, vase suggestions, numerous photographs of the flowers and completed arrangements, and detailed step by step instructions. The first section is on essential techniques and consists of examples 7 different styles from show stopping bouquets and en masse arrangements to centerpieces and mini/single flower displays. The second, and largest section is "Seasonal Bouquets" that includes all kinds of floral projects arranged by the season in which the component floral elements are available. An "A to Z Ingredient Guide" highlighting individual plants with information on vase life and harvesting, concludes the work.
The "Seasonal Arrangements" is the most impressive part of the book because of its diversity and beauty of the works. One of my favorites is the spring time statement piece in shades of green that includes viburnum, tatarian honeysuckle, hellebore, daffodils, 'Green Star' tulip and wild heuchera. The piece is spectacular! Another beauty is the winter light en masse arrangement of filbert, river birch catkins, and 'Casa Blanca' lilies, but the bonus piece, a wrist corsage of strawflowers, pincushion flower buds, hydrangea, raspberries, celosia, crabapples, rose hips, pokeweed, and mignonette pods, really caught my eye.
The author favors natural looking bouquets and uses all kinds of plant material from foliage and flowers to pods, fruits, and branches. Her writing style is casual and clear and she shares many personal anecdotes that reveal her love for plants and her work. The photographs capture the beauty of the flowers as well as that of the arrangements and are a good source of inspiration. With its emphasis on seasonal and diverse plant material, A Year in Flowers is one of the best book on flower arranging I have reviewed!
To buy A Year in Flowers from Amazon, click here.