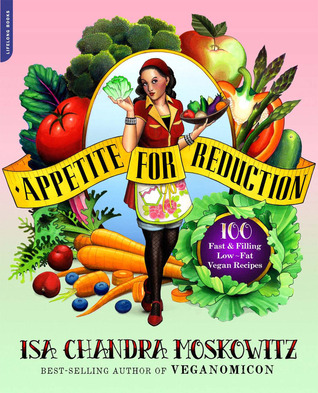 If you are interested in healthy eating Isa Chandra Moskowitz' book buy prednisone 10mg Appetite for Reduction: 125 Fast and Filling Low-Fat Vegan Recipes will be of interest. And let me state upfront, I am neither vegan nor vegetarian but I do love vegetables and that is why this book grabbed me. Furthermore, eating healthy involves reducing fat for me so the author's emphasis on low fat recipes was especially appealing. Even if you know nothing about the vegan diet and don't want to the book will introduce you to some simple recipes that are delicious as well as healthy.
The recipes borrow from many ethnic backgrounds from Italian and Mexican, to Thai, Indian, Middle Eastern, and Caribbean. They include a wide variety of foods including soups, salads, curries, chili, stew, pasta, and sides. Each recipe is introduced by a description of the unique qualities of the dish followed by a list of ingredients and step-by-step directions for preparation. Comprehensive nutritional information is given in regard to calories, various fats, fiber, total carbohydrates, sugars, protein, cholesterol, sodium, vitamins A and C, calcium, and iron. Rather than relying on meat substitutes as other vegan cookbooks sometimes do, the author makes big use of beans and fresh vegetables. Helpful cooking and nutritional tips are found in highlighted insets and help with preparation as well as planning meals. You learn, for example, that vitamin C aids the body's absorption of iron so adding vitamin C-rich salsa to iron-rich rice or beans increases the amount of your iron uptake.
Ms. Moskowitz' writing style is infectious and inspires the reader to get cooking. With recipes like Pad Thai salad featuring peanut-lime dragon dressing, hummus with six variations, Caribbean curried black-eye peas with plantains, and forty glove chickpeas and broccoli, the book contains something for every taste. The author made an effort to keep the recipes simple enough to prepare quickly and to use ingredients that can be found in local stores. Depending on where you live, however, some ingredients will be more difficult to find than others. If healthy eating is a priority, give this book a try; you may never wonder again "where's the beef"?
To buy where can i buy real isotretinoin online Appetite for Reduction: 125 Fast and Filling Low-Fat Vegan Recipes from Amazon.com click here.