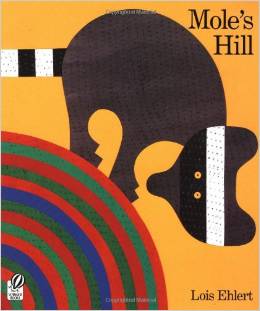 No gardener likes moles but Lois Ehlert's book, Mole's Hill, might soften those negative feelings. Based on a folktale of the Seneca Indians, Mole's Hill is set in the woodlands of Wisconsin and features animals and plants indigenous to the area. The story concerns the relationship between the animals as the face conflict of interest and is suitable for children from four to eight.
Mole has a problem; fox, raccoon, and skunk have planned a new path to the pond and mole's burrow is in the way. They demand that she move it. Mole loves her home and doesn't want to move so she comes up with an idea to save her home and keep the other animals happy. In the end everyone gets what they want thanks to mole's ingenuity.
The story is illustrated with pictures inspired by two native American art forms: ribbon applique and sewn bead-work. The colors are bright and vivid, and the shapes are bold and simple. The author adds a unique touch by having the reader turn the book forty-five degrees to read a couple of the pages. Mole's Hill combines a good story line in simple language with striking illustrations to create a book that is good for reading aloud to a group as well as enjoyed alone.
To buy Mole's Hill: A Woodland Tale from Amazon.com click here.