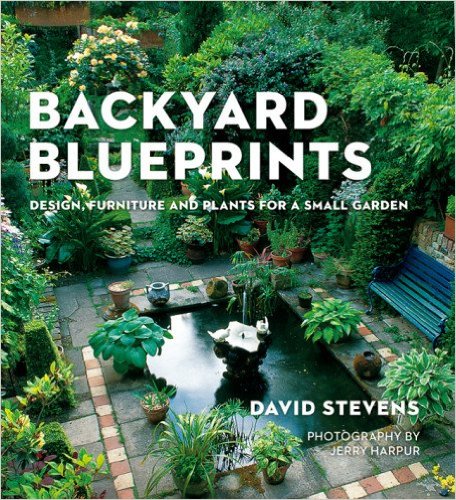 If you have a small backyard with little charm but also harbor a big desire for a private paradise, consider this very helpful book by David Stevens. In Backyard Blueprints, Stevens shows readers how they can create an intimate area with all sorts of amenities to make the space relaxing, inviting and fun. By careful planning you can bring out the full potential of the your backyard and enjoy all the benefits of an outdoor room.
The author takes a three-prong approach presenting blueprints for design, for furnishing, and for planting. In the design chapters he considers design styles and shows how space can be manipulated to meet individual needs and ideals. Here we learn about the importance of pattern, color, scale, and texture to the design process and how to increase the perceived size of the space. A second chapter deals with choosing the furnishings that will maximize the backyard experience. Included in this chapter is furniture, water features, garden sheds, children's play facilities, pergolas, containers, and lighting. The final chapter shows how plants can be used to bring the garden to life. Basic design principles are reviewed and the ways that shape, texture and color can be used to create interest and beauty are described. The author points out that the success of a garden is often due to the clever ways that the gardener relates ordinary flowers rather than the inclusion of unusual or rare plants into the garden design. The sections on growing plants in drifts, the use of climbing plants, and dealing with difficult aresa like corners are especially helpful.
Filled with colorful illustrations, this book offers a lot of great ideas and advice for creating your very own private paradise in your backyard, regardless of space constraints. Although the author writes with a British gardening background, the content of the book is equally valuable for designing gardens in the US because it presents principles rather than recipes. Especially beneficial are the diagrams that accompany photographs of specific gardens so you see the garden from two different perspectives and identify major features. Backyard Blueprints is an excellent resource when you set you set out to get the most out of your backyard.
To buy Backyard Blueprints: Design, Furniture and Plants for a Small Garden from Amazon.com click here.