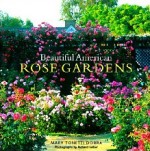 To the rose-lover, there is no more beautiful sight than masses of well-grown blooming roses. Most of us, however, have to be content to tuck roses here and there into our gardens as we find places for them while a few lucky gardeners devote a whole area just to roses. True rose gardens devoted exclusively to roses, or almost so, are a special treat and Mary Tonetti Dorra's book allows us to experience twenty-four private rose gardens from across the country.
From Maine to Florida, California to the Pacific Northwest and across the midwest, Dorra visited and documented outstanding rose gardens. The examples she presents show a wide variety of designs from formal to informal and everything in between. A Nantucket garden with parterres of boxwood filled with over 600 modern roses, shows the elegance of a formal approach while an Oregon garden reflects the casual-living associated with a turn of the century farmhouse.
The fascinating part of the design process, Dorra shows the reader, is the many considerations that are taken into account to produce the end result. Roses vary in many ways including hardiness, disease resistance, bloom time and duration, as well as color, fragrance, and size. Likewise, garden sites vary in temperature, soil, moisture, and sun light. All of these factors together with personal preferences go into the decision making process when designing a rose garden so the results are varied and personal, with no two gardens being alike.
The infinite variety in rose garden design, of course, is what makes the topic so interesting. The New Hampshire garden with 6,000 bushes, mostly old garden roses, stands in contrast to Dolores Hope's garden in Toluca Lake, California made up of 50 varieites of hybrid teas and one grandiflora, 'Queen Elizabeth'. Both are beautiful gardens, with totally different designs and roses but each reflecting the taste and passions of their owners as well as the constraints of the environment.  Thus, the other twenty two gardens presented are each unique in their own way and add to gallery of ideas for future rose gardens.
Each entry profiles the making of the garden with a focus on the aspirations of the owners and the factors that went into their decision making process. Insets feature detailed information of specific roses and an abundance of photographs make the gardens come to life. A special section presents tips from individual featured gardeners on growing roses together with diagram of specific gardens, and a list of sources. This book is not a cook-book rose garden book but will inspire the rose-lover to explore new possibilities and create a garden that is both beautiful and satisfying.
To buy Beautiful American Rose Gardens from Amazon.com click here.