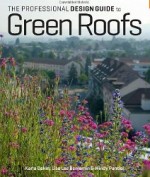 As urbanization and environmental awareness increases more and more people are becoming interested in creating rooftop gardens that address critical environmental issues while also allowing people to interact with nature in an aesthetically pleasing setting. This book explores both roof top garden design and the process behind it. The authors, Karla Dakin and Lisa Lee Benjamin, use their own experience as well as that of other roof top designers from the international scene to bring the subject to life and provide a all encompassing-look at building roof top gardens.
The first part of the book focuses on inspiration and the relationship between form and function. The authors point out that many different factors can provide inspiration from a lawsuit to art and to nature itself. The importance of shape, pattern, color, texture and movement to the design process is discussed within the constraints that the environment may place on the final design. The role of the roof top garden in the lives of the people who use them is considered and the authors note that more and more businesses such as hotels are converting their roof tops to amenity spaces to please their patrons. The many factors that go into making a livable space from a roof top are explored including hardscape, and accessories such as furniture, lighting, pots, and art. Separate chapters are devoted to plant selection and encouraging wildlife in an effort to increase biodiversity in urban environments.
Part two of the book is entitled "Process" and deals the nits and grits of establishing a roof top garden. It includes all phases of a project such as predesign, site analysis, management of client's expectations, master planning, design development, and construction issues and maintenance. The creation of an eco-friendly habitat that is aesthetically pleasing and meets the needs of the people is has the heart of the entire process.
The book appears to be aimed at the serious garden designer but is a good read for anyone interested in new ways to bring people together with nature and gardens. The authors describe a plethora of both small and large-scale roof top gardens from all over the world to illustrate their points, providing many photographs to further enhance their presentation. After reading this book I was overwhelmed by the number of innovative roof top gardens around the world that are already being enjoyed by countless numbers of people. This appears to be a trend that will affect us all and make the world a better and more beautiful place to be.
To buy The Professional Design Guide to Green Roofs from Amazon.com click here.