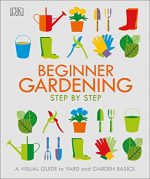 DK's book Beginner Gardening presents the basic principles involved in making and maintaining a garden from conception to birth. It breaks down the process into small segments and presents each segment with step by step instructions accompanied by labeled photographs all the way through. While the facts are well known, the approach and delivery are novel and make garden creation available to anyone wishing to pursue it.
Early sections give directions for situating the garden, improving the soil, choosing the plants, sowing seeds, planting containers, laying out borders, and making raised beds. Later chapters focus on the lawn and specific groups of plants: climbers, shrubs, trees, grasses, vegetables, herbs, and fruits. Each chapter is divided into the key topics such as planting, pruning, and propagating. Projects are included such as making an ivy ball, creating a tower of climbers, and planting a windowsill lettuce patch. Final chapters deal with practical matters such as composting, tool care, and pest control. Most of the key topics are covered in 2-4 pages and include step by step illustrated directions. Insets provide additional information on a variety of subjects such as deadheading, buying tips, and gardening vocabulary.
To buy Beginner Gardening from Amazon.com click here.