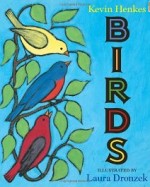 One of the most welcome visitors to a garden are birds. Adults and children love them and Kevin Henkes' book Birds inspires the same kind of feelings. If you have a child or grandchild ages 1½ to 4, this book is a wonderful way to share an interest and engender a love for our feathered friends.
Birds has a simple text that highlights some of the qualities that make birds so intriguing. Their colors, shapes and habits are explored in a simple prose accompanied by bold, art work that perfectly complements the text. Bold silhouettes of crow like birds stand out from colorful backgrounds with the text "Sometimes they [birds] are so black that you can't see their eyes or their feathers, just their shapes." An owl sits with a goldfinch on a branch with other birds around with the text "Birds can be BIG or little or any size in between." Three pictures show seven birds on a telephone wire followed by a double page view of the wire after the birds had left. The imagination is further invoked by a picture of the sky if birds could leave marks there with their tails. Each page expresses a new thought about birds and the way we see them.
Because of the bold pictures and simple story line Birds is especially good for reading to a group. For the same reason, it is very appropriate for a very young child that has a short attention span but will be captured by the bright colors of the illustrations. The warm feelings that are stirred up by the book makes it ideal for family sharing.  But be forewarned;  this is the kind of book a young child want read over and over.