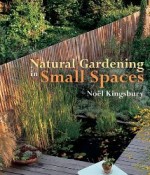 An increasing number of gardeners are interested in making their gardens environmentally friendly but many assume that they need a lot of space. Not true. Noel Kingsbury's book, Natural Gardening in Small Spaces, shows gardeners that they can create natural looking places that provide habitats for wildlife even in a small garden. The goal is to put together a sustainable ecosystem with aesthetic appeal which will take care of itself once established.
Kingsbury begins by explaining how plant communities work and how they relate to the gardener. The importance of microhabitats to biodiversity and the ways to achieve them are explored with suggestions for strategies that maximize the benefits. The needs of wildlife are reconciled with design considerations by a discussion of the role of complexity, coherence, legibility and mystery in organizing the garden space.
According to Kingsbury, an essential part of natural gardening is seeing wild plant communities and natural habitats as models for garden design. With this in mind he examines the various types of natural habitats that can provide inspiration for small space gardeners. Included are woodland, woodland edge, grassland, dry and exposed areas, wetland, and open borders. He points out the unique characteristics of each habitat and suggests suitable plants that will attract wildlife and be aesthetically pleasing. Kingsbury's goal is "to encapsulate nature in a small space so as to allow us to experience something of the beauty, the vibrancy, and the complexity of nature." Think of a lawn, for example, planted with strips of wild flowers, or a shade garden under a canopy of trees with mosses and ferns. If you can't quite envision it, no problem, the book is full of photographs that illustrate the text.
And then there are the city gardeners who have little or no space, or so they may think. Kingsbury devotes a section to "natural gardening without a garden' in which he considers such possibilities as roof gardens, vertical gardens, and containers. No need to give up hope if you live in an urban environment and have the will to enjoy nature. The author suggests that you can provide much needed housing for animals such as bats who are losing their homes as old buildings are being demolished.
A chapter on the practicalities of natural gardening followed by a plant directory conclude the work. The plant directory is organized by habitat so that you can choose the plants that best suit the type of garden you wish to create. Information is given on habit, flower color, season of interest, soil requirements, and hardiness.
Natural Gardening in Small Spaces is packed full of great ideas to get you started on a whole new approach to gardening. The author stresses the importance of taking inspiration from nature and his book is extremely helpful in doing just that. Starting with the concepts of microhabitats and biodiversity and ending with the plant directory, the book gives you the information you need to change the way you think and begin a new way of gardening.
To buy Natural Gardening in Small Spaces from Amazon.com click here.