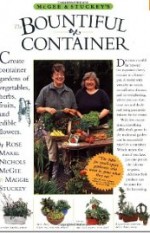 McGee's and Stuckey's book, Bountiful Container, is about growing edibles including vegetables, fruits, herbs, or flowers. Whether you live in an apartment, townhouse, or condominium and have limited space or you just prefer to have pots of edibles near your cooking or eating area, this book will help you grow a large variety of foods in containers. With a few exceptions, everything that can be grown in a traditional garden can be grown in a container and this book will tell you how.
The book is divided into three sections. The first deals with helping you chose the plants for your containers. As the authors point out, the choice of plants depends on a balance between what you want to grow and what is possible, given the space available, environmental conditions, and aesthetic requirements. Tips are given for adjusting and enhancing the physical environment, suggests for unique and gourmet varieties are provided, and edibles that are "not worth the trouble" are listed. The planting of successive crops is explained with examples, and ways to make the container garden beautiful are presented.
Section two entitled "Down to Earth Basics" describes how to make and maintain a container garden. Hardware such as various kinds of containers, trellises, and tools, software including seeds and soil are discussed as well as fertilizing, watering and, pest and disease control. Tips are included for saving seed, make your own containers, and timing the planting of seeds with night time temperatures.
The heart of the book is the third section with is an encyclopedia of edible plants. Detailed information is given for selecting, planting, maintaining, and harvesting various vegetables, fruits, herbs, and edible flowers. You can learn the differences between dozens of kinds of salad greens, how to grow your own no calorie sweetener, stevia, and the importance of rootstock in the selection a dwarf apple tree. Numerous insets give additional information such as ideas for theme gardens ("Pretty in Pink", "Romeo and Juliet", 'The Cheshire Cat"), recipes (Hungarian pepper salsa, green garlic soup, Mardi Gras salad), and craft projects (grapevine wreath, topiary, crystallized flowers). Even if you never grow nasturtiums you will be entertained by the stories of how they got their name.
Bountiful Container is a good book for a gardener's library. In addition to be a good read, it contains all the information needed to get started growing edibles in containers. The easy to do directions make it a good source for even the novice gardener but the depth of knowledge makes it valuable for the more experienced one too. Some readers may find the lack of color illustrations a drawback but the amount of information peppered with tidbits to tickle the imagination more than make up for it. If you are looking for containers that primarily appeal to the eye, you might want to consult other books for design ideas but if you are looking for solid basic information this book will fill the bill.
Stories, myths, folklore, and history add a human touch.
To buy Bountiful Container: Create Container Gardens of Vegetables, Herbs, Fruits, and Edible Flowers from Amazon.com click here.