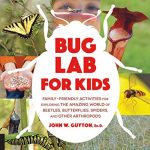 John E. Guyon's book, Bug Lab for Kids, is a dynamite introduction to entomology for children! It introduces readers to the methods and type of thinking that characterizes real scientists from collecting and identifying specimens to constructing experiments and recording data. Written for children ages 7-10, the book is filled with suggestions to stimulate curiosity and heighten the learning experience.
The book starts off with preparing for bug collecting and covers dress, equipment, and first aid. The scientific method is introduced with a lab on the effect of some common household substances on ant trails. This experiment, like all those in the book, provides background material on the topic, a list of materials and equipment, and step by step instructions including suggestions for recording the results.
A total of 43 experiments are presented by topic such as most common insect orders, bees and other pollinators, and bug and art science. There are hands on activities that can be done at home or school and teach the children about the appearance, behavior, and role of bugs in the environment. Safety is a big issue throughout the book and a net icon draws attention to safety concerns. An abundance of photographs and illustrations show bugs, equipment, and techniques while insets give additional information on a range of topics such as bug camouflage, famous entomologists, and historical facts regarding bugs. Although the target audience is children the activities may appeal to adults as well.
To buy Bug Lab for Kids from Amazon.com click here.