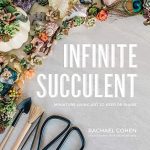 Succulents are familiar plants to many gardeners but to author Rachael Cohen they have the potential of being living art. In her book, Infinite Succulents, Cohen shows readers that succulents are versatile, low maintenance, and offer great variety in color, form, and texture so that they are especially valuable for craft projects. Instructions for over a dozen crafts are complemented by tips for maintaining and caring for succulent art.
An introductory chapter considers selection and buying of succulents and how to propagate and prep them for use. The projects are grouped into three categories: Décor, Seasonal, and Accessories. The Décor projects include cork magnets, miniature terrariums, and bookmarks while the Seasonal projects feature decorated seashells, pumpkins, and wreaths. The section on accessories has directions for super cute bracelets and headbands. Every project has step by step instructions with numerous photographs, and care instructions. And end section tells how to deconstruct the project and reuse the materials.
If you have any interest in succulents this book is a great resource for novel uses of the plants and gives all the information needed to delve into this creative activity. The instructions are simple and clear, the materials easily available, and the photographs beautiful and inspiring. Even if you have never given succulents a causal glance this book might make you reconsider.
To buy Infinite Succulents from Amazon.com click here.