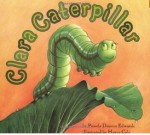 Not everyone loves caterpillars but once you read Pamela Duncan Edwards' charming book, Clara Caterpillar you might at least like them. In addition to a good story, Edwards gives the reader a lot of information about caterpillars and provides a lesson on accepting others for the unique qualities. Suitable for children ages 3-6, the book is good for reading aloud to a group and stimulating an interest in caterpillars.
We first meet Clara when as she is developing in an egg with several different caterpillars watching for her emergence including the curious Cornelius and the catty, conceited Catisha. After eating heartily, the caterpillars form chrysalis' until they emerge as butterflies, Clara a common cream and Catisha a spectacular crimson. As the story develops Clara proves that beauty does not compare with courage.
The alliterative text is combined with delightful illustrations featuring caterpillars with personality involved in their daily routine. My favorite is the two page spread of the caterpillars in their chrysalis with captions like, "I'm crushed in here", "My back tickles", and "It's making me cranky". (Clara, however, was cozy.) The story of Clara is charming and every time I read it I found something new to enjoy.
To buy Clara Caterpillar from Amazon.com click here.