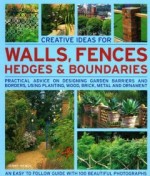 Remembering Robert Frost's line "Good fences make good neighbors" the reader can find many creative and innovative ideas for creating boundaries that make good neighbors. Not only do boundaries define the space, they create privacy and safety as well as add style and character to the garden. Choosing from a variety of materials the author explores the design and decorative finishes of boundaries suitable for any situation from urban to rustic, and contemporary to period.
The book is divided into two parts; the first is devoted to assessing the available choices in regard to the needs of the individual gardener. The discussion considers fences, screens, trellis', walls, hedges, railings, natural barriers, subtle boundaries, entrances, gateways, and apertures. The author points out the advantages and disadvantages of each along with the atmosphere that each one creates in the garden. Hendy notes, for example that a garden entrance gives rise to the expectation that the visitor is entering a unique place with a special character suggested by clues presented by the entrance itself. The author also includes many practical suggestions such as how to reduce the hassle of replacing fence posts, and how to make a trellis with roofing lath. The elements and principles of good design such as texture and rhythm are also taken into consideration as the author develops various ways of defining space.
The second part of the book considers ways to finish the chosen boundary to add to the décor of the garden. As Hendy points, one of the simplest ways to transform the garden environment and create atmosphere is by adding color and texture with paint. Other embellishments include ornaments such as sculpture, mosaics, planters, decorative structures such as a pergola, lighting, water features, and trompe l'oeil. Used alone or in combination with other ideas these suggestions can customize the boundaries.
The book is amply supplied with beautiful and informative photographs that illustrate the main points of the text and inspire the reader to think about boundaries with imagination. There are ideas for everyone's taste and plenty of basic information to help the reader get started. It is not, however a step by step DIY instructions but rather guide to help the reader find direction and work out an individualized plan for making barriers an integral part of the garden design. Shop around for a good price on this book; my copy cost $12.99, considerably less than Amazon's price, used or new.
To buy Creative Ideas for Walls, Fences, Hedges and Boundaries: Practical advice on designing garden barriers and borders, using planting, wood, brick, metal and ornament from Amazon.com click here.