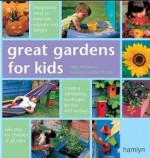 Playing out of doors is one of the best ways for kid to get exercise and learn to appreciate the outdoors but who wants kids wrecking the garden? Fortunately  there does not have to be a choice between play area and garden, you can have them both. Clare Matthews' book, Great Gardens for Kids, shows the reader that beautiful gardens can include fascinating, stimulating places that kids can enjoy while they learn to love the natural world.
The author presents over thirty five projects for enhancing a garden with kids in mind. The projects include a variety of unique ideas to entertain and excite children including a clematis hideaway, turf stools, bubbling spring, carnivorous bog, pet palace, and climbing wall. A special section focuses on holidays and celebrations with suggestions for decorations and parties with food, favors, and activities. A final discusses safety concerns with suggestions regarding play surfaces, water, plants, and protection from the sun.
Bright, colorful pictures fill the book and add excitement and enthusiasm to the text. The step-by-step directions are easy to follow and require no special equipment or skills. Although the book is aimed at preteens and younger, adults can appreciate many of the innovative features presented and have as much fun as the kids they are intended for. What could be more fun that making a carnivorous bog?
To buy Great Gardens for Kids from Amazon.com click here.