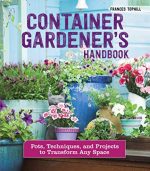 If you like plants you will probably need or want at least a few containers filled with plants no matter where you live. Francis Tophill's book, Container Gardener's Handbook presents a good introduction to container gardening plus 41 projects to enhance any area from a windowsill to a full sized garden.
The inspiring part of the book is the projects. Believing that there are inexpensive and easy ways to have beautiful containers, Tophill shows how to use a large variety of items to their full potential to decorate areas of your special space, large or small. Her projects show that clever use of containers and innovative ways to display them are the keys to success. Each project entry consists of an introduction describing why the project works, a list of materials and plants, step by step instructions, estimate of time needed to complete the project, and a color photograph of the finished project. Some of the most fun projects include a wildlife garden in an upcycled suitcase, a living wall in a pallet, and a strawberry patch in a gutter. Tophill makes use of recycled materials and finds innovative ways of using items that you might think are worn out. Most of the projects take an hour to an afternoon to complete and can be done with tools found in most households. Abundant photographs illustrate methods and procedures to facilitate successful completion of the projects.
To by Container Gardener's Handbook from Amazon.com click here.