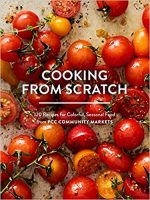 ooking from Scratch comes from the Puget Consumer Co-op Community Markets, a Seattle based grocer dedicated to local producers, sustainable food practices, and healthful, organic seasonal food. The recipes are organized by meal from breakfast to dinner and include soups, stews, salads, entrees, side dishes, snacks, drinks and desserts. Some recipes are totally unique while others are classics with a twist.
Each recipe includes an introduction that discusses why it is special and unique, and nutritional information in regard to calories, fat, saturated fat, cholesterol, sodium, carbohydrates, fiber, sugar, and protein. Beverage and serving suggestions and cooking tips are included for many recipes as well as a full page photograph of the finished product. Some of the top favorites are baked Dutch baby pancakes (a Seattle original), Tiger Mountain turkey chili (a PCC Deli favorite), and Emerald City Salad (an iconic dish of PCC's deli). For unusual combinations you might want to try the halibut with rhubarb-ginger sauce, the roasted cherry, chorizo, and orzo salad, or the stir-fried cabbage with eggs. Recipes like roasted brussel sprouts Caesar salad , hibiscus lemon bars, or cherry-balsamic upside-down cake will cause you to take a new look at old favorites. If you want some vegetarian dishes try the fennel and basil lasagna made with ricotta and Fontana cheeses, Steph's Tofu made by baking tofu in a flavorful Asian marinade, or curried lentil and mango wraps. Roasted sweet potato dip, avocado brownies, and kimchi bloody Mary are sure to pique the interest of many cooks.
The recipes are clearly written and easy to follow. The ingredient list goes from relative short to long and usually does not contain outlandishly difficult-to- find items and substitutes are sometimes suggested. Insets enhance the text with such things as facts about ingredients, comments on cooking methods, and information on nutrition. Technique driven sections are included in each chapter to teach basic skills relevant to that chapter. An excellent cookbook with lots of unique recipes!
To buy Cooking from Scratch fromAmazon.com click here.