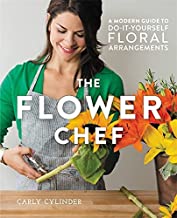 Florist, Carly Cylinder, shares the secrets of success in her book, The Flower Chef, a comprehensive guide to flower arranging. She aims to make floral design easy and accessible to the beginner as well as to the experienced floral designer, and provides information on buying, preparing, cutting, and arranging flowers. Recipes for over 80 different arrangements, ranging in style from simple and fun to modern and sophisticated, are the crowning highlight of the book.
The introductory sections include some unique and informative material including lists of flowers by special characteristics such as those that are resilient out of water. A chart lists common cut flowers alphabetically and indicates the time of year each flower is readily available. A section on greens describes the 12 most common ones with tips for their use. When discussing the preparation of flowers for use in arrangements, the author considers over 35 different flowers giving specific instructions for each flower and including pertinent information such as vase life and heat sensitivity. Insets describe techniques such as pulling thin stemmed flowers through a bouquet and forcing buds to open.
The recipes for arrangements are organized by the method used to stabilize the arrangement: sprialed, floral foam, tape grid, lined vase, freehand, and combination of stabilizers. Each recipe includes prep time, arranging time, appropriate season, level of difficulty, cost estimate, list of plant material, tools and vase suggestion, and step by step instructions presented in the form of a list. A photograph of the completed arrangement is always included and sometimes additional photographs enhance the text by illustrating some of the more difficult steps. Insets cover such topics as making a professional-looking wrapped bouquet and spiraling roses. Some of the outstanding arrangements include the "Retro Surf Bouquet" with wired gladiolus blossoms surrounded by statice, "Wildflower Meadow" with snapdragons, waxflower, Bells of Ireland, and eucalyptus, and "Hollywood Glam" with white hydrangea, white roses, and a feather boa.
The Flower Chef serves up a lot of information and terrific ideas to get the juices flowing. The author puts forth new ideas and covers topics that are often lacking in books on floral design. The photographs are beautiful and helpful and the text is easy to follow. There is something in The Flower Chef to please anyone interested in floral design.
To buy The Flower Chef from Amazon, click here.