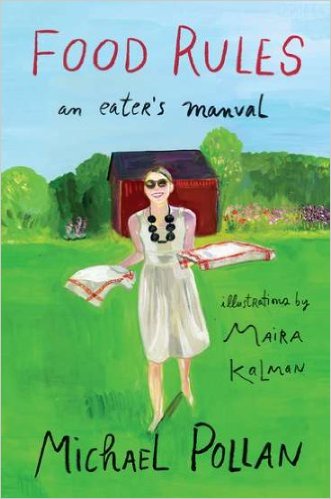 Are you confused by "the latest" information on the benefits of consuming coffee, red wine, or butter?  Do you wonder about probiotics, folic acid, or gluten? You are not alone and Michael Pollan, in his book,  Food Rules, takes a hard look at the western diet and presents eighty three rules as a guide to eating well. The rules are based on the premise that eating a healthy died boils down to seven words: "Eat food. Not too much. Mostly plants."
The rules are organized into three groups. The first, "What Should I Eat?", offers ways to help the reader distinguish between real food and edible foodlike substances. The second section, "What Kind of Food Should I Eat?", provides guidelines to help choose among real foods with a preference for plants. The third section, "How Should I Eat?" gives polices aimed at moderating eating habits and maximizing enjoyment.
The rules are drawn from many sources including scientists, tradition, culture, and public opinion. Most of the rules are accompanied by a paragraph or two explaining and extending the rule. The language is non-technical and the text full of humor. Some rules are well known ("Sweeten and salt your food yourself") while others might be surprising ("Milk is a food, not a beverage"). Still others are humorous (Don't eat breakfast cereals that change the color of the milk") while being realistic and good advice. Pollan makes choosing and eating a healthy diet fun and that is the great value of the book. His message is lavishly illustrated by the whimsical artwork of Maira Kalman.
To buy Food Rules from Amazon.com Click Here.