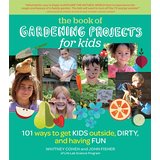 Encouraging kids to get outside and enjoy the natural world is not always easy especially now that ipads have become common toys for them. Whitney Cohen and John Fisher's book, The Book of Gardening Projects for Kids, provides a treasure trove of ideas that will entice the most reluctant youngster to explore the outdoors and find pleasure in doing so. With years of experience in garden-based education, the authors show how gardening activities can provide a the whole family with rewarding experiences that may develop a connection with nature and a desire to take care of the environment.
The book is far more than a book of projects. Building on the natural enthusiasm of children the authors provide guidelines for creating a child-friendly garden that appeal to their natural curiosity and joy in new things. The numerous projects are organize into nine groups: garden design, planting and care, theme gardens, animals in the garden, adventures and games, art, harvesting and preserving, cooking, and celebrations. Each chapter has a running text that provides the over-all context and suggestions for carrying out the projects including safety tips. The projects are on pastel pages throughout the book and include a list of supplies and step by step directions. Some of the projects are very simple like planting a prehistoric jungle of lettuce or gathering bugs while others are more complex . Directions are included for making a bird blind, homemade insect repellent, and cornhusk dolls. Like arts and crafts? Try decorating candles with pressed leaves and flowers or fashion mosaic stepping stones from dish shards, marbles, glass beads and shells. Some of my favorite activities are the garden treasure hunt, chickadees and jays game, and rock plant markers. Just as much fun as the projects are suggestions for activities included in small insets such as serving soup in a pumpkin, creating a zoo bed, and making a bird feeder out of recycled materials. Other inserts give valuable information on such topics as plants to feed butterfly larvae, toxic plants, and using farmer measurement for planting.
The authors combine creativity with special insight into what children really like. Their ideas are very child-centered and aim at inspiring the joy that comes with experience new things. The numerous color photo capture the love the authors have for their work and are an inspiration for the reader interested in bringing a child into the wonderful world of gardening.
To buy The Book of Gardening Projects for Kids from Amazon.com Click Here.