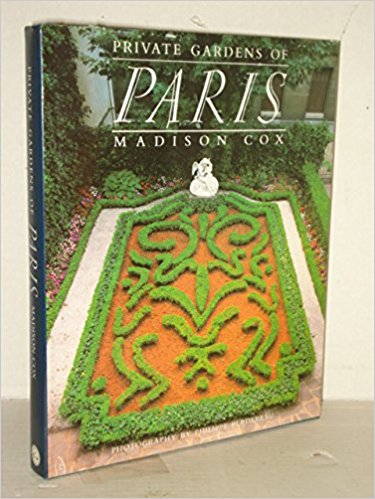 The mention of Paris may bring images to mind of the Eiffel Tower, Arc de Tiomphe, Notre Dame Cathedral or perhaps Jardin des Tuileries, but probably not the private gardens there. Chances are that most people could not even name one private garden or its owner. Madison Cox' book, The private Gardens of Paris, presents thirty private gardens within the city chosen to show the diversity and beauty that has been created there.
A whole chapter is devoted to each of the thirty gardens. From the rural courtyard of Mme Gallia Saouma to the formal box parterres of the dancer, M. Yves Brieux-Ustaritz, and the roof top retreat of interior designer Mme Andree Putman, the history, rational, and plant selections are described. Also included are Yves Saint Laurent's contemporary garden designed for entertaining, the garden of theatrical surprises of artist M. Roger Chapelain-Midy, and the elephant garden of Baroness Lulu de Waldner. Many different styles are included from the lush Romantic garden of M. and Mme Pierre Landolt, to the classical garden of M. Jean Feray, and the country garden of Mme Philippe Dauchez. Bamboo, yews, roses, herbs, and even vegetables are featured in some of the fantastic Parisian gardens described, all attesting to the uniqueness and style that creates the city's mystic.
The book was published in 1989 and has the major drawback of that vintage; the majority of the photos are in black and white and are of dubious quality by today's standards. The color photos are much better quality and give a better impression of what the gardens are actually like. The text is lively, well written, and full of information on the gardens. An excellent book for readers interested in garden history or French culture.
To buy Private Gardens of Paris from Amazon.com Click Here.