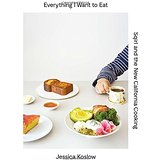 Comfort food is great but sometimes I just want something new and unique. Jessica Koslow's cookbook, Everything I Want to Eat, provides a plethora of such items. They are unique in both ingredients and flavor and using combinations that are sure to excite the imagination and palette. Koslow is the owner of the Sqirl restaurant in Los Angeles where she regularly meets the demands of customers who want adjustments made to the menu to accommodate their gluten-free, vegetarian, or vegan diets. No problem, for Koslow, as her recipes are flexible as well as unique.
The cookbook organizes the recipes into to nine groups: eggs and toast, grains and beans, vegetables, meat, fish, jams, desserts, drinks, and larder. Right away your notice something quirky; the section devoted just to jams. Not surprising, however, because Koslow got her start in the restaurant business making jam. The section features just six jams, with shady lady tomato and coriander jam being one of the most seductive entries. Koslow's iconic recipes such as brown rice porridge, sorrel pesto rice bowl, and malva pudding cake are included along with many more that reflect Koslow's special talent for special food combinations. How about beef ravioli with carrot sauce and celery leaf pest or braided duck legs with dill spatzle and sauerkraut? Yum! One of my favorites is Kabbouleh, a twist on traditional tabbouleh using cauliflower, dried currants, sumac, Aleppo pepper and kale instead of parsley.
The recipes include a chatty introduction, a list of ingredients, directions, and tips on a wide variety of topics such as substitutions, shortcuts, sides and cooking tips. The list of ingredient sometimes includes unusual items but most are available in large grocery stores. Although the recipes are not simple they can probably be accomplished by a moderately experienced cook. Some recipes have a beautiful photographs of the final product dished up and served in style, but others do not. Additional photographs show farm scenes, customers at the restaurant, and cooks making delectable dishes. Although I will never be able to cook this way on a daily basis the creativity of the offerings inspires me to try many of them and the book is a very welcome addition to my cooking experience.
To buy Everything I Want to Eat from Amazon.com Click Here.