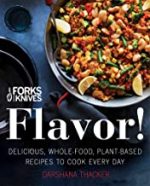 Darshana Thacker's cookbook, Forks over Knives Flavor!, brings a very international approach to whole-food, plant based cooking.  Believing that chronic aliments can be prevented, halted and oftentimes reversed by omitting animal foods and highly refined foods from the diet, and person can live a healthier and happier life. Thacker draws on her vegetarian Indian background and adds her  experiences with the cuisines of Europe, the Middle East, Asia, and the Americas to produce oil-free recipes based on fruits, vegetables, whole grains and legumes.
The recipes are organized into twelve groups: breakast, appetizers, salads, "grap and go" foods, warm veggie sides, soups and stews, baked entrees, pasta and noodles, grains and bans, bread and crackers, desserts, and dips and sauced. They include such traditional foods as tamale pie, moussaka, Greek pastitsio, Korean bibimbap, Tibetan momos, Spanish paella, El Salvadorian pupusas, and Tunisian couscous and carrot salad.  Some of the most intriguing recipes are the Russian beet burgers, Indian burritos, and and yucca fries with green Peruvian dipping sauce.  Each recipe is introduced by information about the background of the dish and the author's personal experience with it.  The (usually long) list of ingredients is given in block form with the directions below them, and an estimated time of preparation on the side.  Most of the ingredients are are easily sourced in local grocery stores but some are more challenging. The directions are easy to follow and do not require advanced cooking skills but preparing and adding the ingredients is inevitably time consuming.  The half to full page photographs are colorful and scattered throughout the book but unfortunately show only about half of the completed dishes.  Forks over Knives: Flavor! defiantly provides an adventure into cooking.
To buy Forks over Knives: Flavor! from Amazon.com click here.