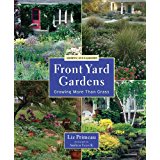 If you are tired of fertilizing, spraying, watering, weeding, and mowing your lawn Liz Primeau's book, Front Yard Gardens, might be the perfect pick for you. Writing from her experience changing her own front yard from grass to garden, the author provides a multitude of ideas to inspire and help the reader make the change. She includes gardening tips, plants lists, and a host of concrete examples to open up options that entice and beckon.
After showing how the lawn became a popular over time and discussing the advantages of gardens over lawns, she details the steps she took to establish a perennial garden in the front of her house starting with her trip to Holland where she got her inspiration. She continues by describing the experience of over seventy five other gardeners, organizing the material by garden type: cottage, small city, opulent, minimalist, fusion, natural, neighborhood, and secret. For each type of garden Primeau provides several case studies and describes the goals, problems, and decisions facing the property owners. She ends each section with guidelines and plant lists for creating the type of garden being discussed. The final chapter deals with special problems such as circular driveways, fire hydrants, and rock walls.
The case study approach is accompanied by numerous photographs and together they make a good case for front yard gardens. Reading the stories of so many gardeners and seeing the results is inspiring and motivating. The only problem is that most of the case studies are from Canada with a few from the US so many readers may not relate to them. Still, the principles involved remain constant and most of the plants are familiar even to those of us who live in the South or Southern California.
To buy Front Yard Gardens from Amazon.com Click Here.