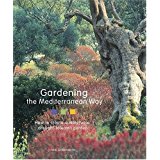 A mediterranean garden has mild, relatively wet winters and long, hot dry summers which offer unique challenges to gardeners that live in such climates throughout the world. Heidi Gildenmeister's book, buy generic accutane online Gardening the Mediterranean Way, shows how gardeners can utilize drought-resistant plants and water-wise gardening practices to live in harmony with the climate. By describing specific gardens in mediterranean climates all over the world, Gildenmeister illustrates the techniques, skills, tools that are utilized to produce gardens that are not only respect the virtues and limitations of their environment , but also fulfill the dreams of their owners.
The first two chapters of the book discuss general considerations including native-plants invasive plants, and elements of design. The bulk of the book presents descriptions of twenty Mediterranean dream gardens from an olive grove to a garden by the sea, to an Andalusian courtyard. Other descriptions address difficult site problems such as a steep hillside, shade, and very limited space, while others deal with special interests such as raising sheep or growing vegetables, fruits, herbs and spices. There are even descriptions of an instant garden and a garden for a lazy person. For each entry there are suggestions are for making and maintaining the garden and extensive plant lists. A glossary, vendor list, bibliography and index complete the work.
where to buy disulfiram (antabuse) Gardening the Mediterranean Way contains a lot of food for thought and is especially valuable to US gardeners who live in California where a mediteranaean climate can be enjoyed. The book is handsomely illustrated with over two hundred photographs of mediterranean gardens located all over the world and has insets with interesting tidbits such as directions for making stone soup or pressing olive oil. Special list include ones for plants that are litter-free, fire-retardant, and potentially harmful . A valuable addition to the library of gardeners living in mediterranean climates.
To buy Gardening the Mediterranean Way from Amazon.com Click Here.