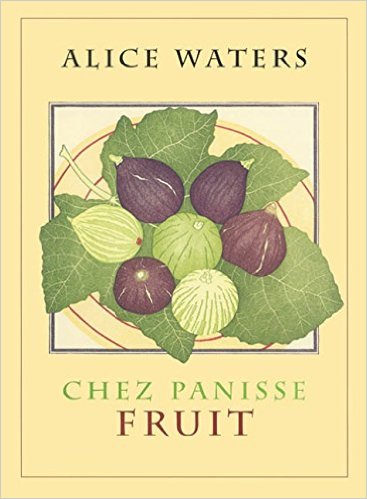 Alice Waters, owner of the restaurant Chez Panisse in Berkeley, California, brings her considerable experience with fresh, locally grown, organic produce to her book, Chez Panisse Fruits. The book provides over two hundred recipes from desserts to salads and savory dishes using over forty different fruits . Linocut prints add soft colors to the text and enhance the overall elegance of the book.
The book is divided up into thirty-eight chapters arranged alphabetically and focusing on a different fruit or family of fruits. All of the fruits are available in the US and the introduction to each chapter gives information on the seasonal availability as well as buying tips for finding the freshest produce. Although the majority of the recipes are straightforward and basic, some are more elaborate. Applesauce, fried plantains, and blueberry buttermilk pancakes make an appearance but with the "Alice waters' touch". Less familiar dishes such as butternut squash and pear puree, candied kumquat ice-cream and grilled squab with huckleberry sauce are also included. Although most of the recipes are for desserts, some are condiments, soups, and meat and seafood dishes. Especially tempting are sardine pasta with fennel and raisins, Sicilian-style swordfish stuffed with currants and pine nuts, and rabbit stew with prunes. A chapter entitled "A Basic Dessert Repertory" ends the work and includes recipes for such standards as pate surcree, sabayon, and pastry cream.
This is a good basic cookbook on fruits that emphasizes the special flavor of fresh produce. Many of the recipes are classic, few are "over the top" but all are well thought- out and have the special concern for flavor that Alice Waters is known for. A very attractive volume, it makes an excellent gift, too.
To buy Chez Panisse Fruit from Amazon.com Click Here.