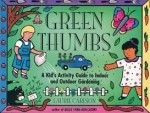 Sharing something you love with people you love is what makes life so worthwhile so what could be more rewarding to a gardener than introducing children to gardening? Laurie Carlson's book, Green Thumbs, gives you more than 80 simple ideas to intrigue, teach, and interest young children in plants and growing them. You don't need a big plot of land or fancy equipment to carry out the activities; a window box and everyday household items are all you need. And if you know nothing about gardening or plants but want to teach your kids, you are in luck because the directions are so simple anyone can follow them.
The activities are organized into seven major groups. The first group introduces gardening basics like starting seeds, taking cuttings, and making compost (indoors as well outdoors). Directions are given for making mini greenhouses, plant labels, seed trays, watering cans, scoops, tool totes, and plant shades out of such materials as egg cartons, soda bottles, and milk jugs. A section on pests includes recipes for homemade bug sprays, and directions for slug traps, pest strips, and scarecrows, while the section on a beneficial animals provides instructions for birdhouses and bird feeders with suggestions for attracting beneficial insects and butterflies. If you have a vegetable garden you may want to enjoy trying the simple recipes that include edible flowers and herbal eggs, or if you prefer, try the suggestions for growing your own sprouts. Grow yeast, fungi, and algae just to investigate some organisms related to plants. Most important have fun with projects like creating your own name with radish seedlings, growing a cucumber in a soda bottle, or watching seedlings lift a penny. For indoor gardening try a dish garden with onion, turnip, or carrots tops, an ivy topiary on a coat hanger, or a living Easter basket. Those who like crafts might enjoy making corn husk dolls or pressing flowers to make pictures or cards.
Green Thumbs is a collection of easy to execute ideas that promote a love of gardening, not a horticultural manual or botany book. The simple activities introduce kids to dirt, plants, and the fun of working with nature while teaching them some basic values about recycling, concern for the environment, and respect for living things. You may be familiar with many of the ideas but having them all in one place with background information as well as directions using simple materials is very beneficial and well worth the price of the book.
To buy Green Thumbs: A Kid's Activity Guide to Indoor and Outdoor Gardening from Amazon.com click here.