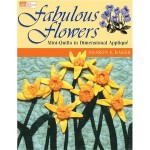 If you like crafts and flowers Sharon Baker's book Fabulous Flowers is a book worth having. In it, Baker shares her enthusiasm and knowledge of making fabric flowers for use in quilt or wearable art projects. Directions are given for 18 different flowers and 20 different projects using them. As an avid gardener and quilter, Bakers book combines a close look at nature with a sensitive feel for fabric to add three dimensional interest to her creations.
After covering the selection of tools and materials, and the basic principles of quilting, Baker begins with basic flower construction. She suggests that many different kinds of flowers can be constructed in a similar fashion and explains techniques to make many flowers with their stems and leaves quickly. She also includes simple ways to embellish the flowers with beads, embroidery, and decorative stitching.
Most of the book is devoted to detailing the construction of the individual flowers needed for the suggested projects. The fuchia, pansies, bleeding heart, and foxgloves are my special favorites but the falling leaves project is sensational too. For each project detailed step by step directions are provided for all the needed flowers, stems and leaves along with drawings that making construction simple. Bakers also gives detailed directions for constructing the quilt and introduces her novel approach of doing the quilting before attaching the floral elements. You have the option, of course, of constructing the quilt in the traditional way.
Whether you have an interest in quilting or not the book is a joy to use for making flowers to include in any craft project that needs flowers. The illustrations give many examples of using various fabrics and adornments to enrich the design and provide inspiration for future projects. The text is clearly written in simple language that is easy to follow and provides all the information you need to get started. This is a great book!
To buy Fabulous Flowers: Mini-Quilts in Dimensional Applique from Amazon.com click here.