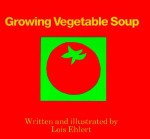 Lois Ehlert's book, Growing Vegetable Soup, is a great way to interest your children in growing and eating vegetables. From onions, to broccoli and tomatoes, peppers, squash and more, the plants are presented in stages from seed to the contents of soup. Tools and equipment as well as the skills necessary for raising the vegetables and making them into soup are all included.
The story line is simple; a father and child plant seeds and seedlings, water them, watch them grow, weed, and harvest them. After washing , chopping, and cooking them they make a soup, that of course, is the "best soup ever". Each step shows the plants in different stages of growth and features the tools necessary to carry out the necessary chores. A recipe for the soup is included. If you don't recognize a tool or seedling, no problem, the pictures are clearly labeled in small black print along each object. Labels are also good for children developing reading vocabulary.
The story is written in large print and simple language so can be read by young children. The bold flat shapes and colors of the plants and tools stand out against plain color-saturated background and are visually stimulating. The story and illustrations together make growing and eating vegetables a fun, enjoyable activity. What a great book to inspire a child in the spring to have a vegetable garden!