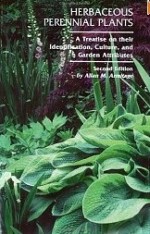 This is my perennial bible. I could not garden without it and I use it on a regular basis. It includes all the information I need to know in order to select plants and grow them well. Don't let the stuffy title or line drawings put you off, this is one terrific book. The author, Allen Armitage, is a well known horticulturalist, author and lecturer, and has an engaging conversational style that makes reading about plants entertaining as well as informative. His vast experience growing plants and his frank evaluation of the plants he has grown makes this book a treasure trove. 
The plants are listed alphabetically by genus. A description of the genus as a whole is followed by detailed information on all the important species, with more information on varieties and cultivars, where appropriate. The entry on each species includes a pronunciation guide, the common name, the height and width of the plant, bloom time, color of the bloom, and area of origin. The description of each species covers a variety of material including a description of the plant, interesting historical facts (Acanthus mollis "was immortalized in the design of the sculptured leaves on Greek Corinthian columns" in ancient times), and cultural tips. Armitage often gives his personal opinion about a plant ("I can think of few other common names in the plant kingdom as ugly as sneezewort.") and offers comments on the suitability of the plant for different climates (he "grew this species [Aurinia saxatilis] with ease in East Lansing, Michigan and Guelph, Ontario but had little success in north Georgia."). In addition he discusses methods of propagation, and gives suggestions for the use of the plant in the garden. He concludes the species description with an annotated list of popular varieties and cultivars which is particularly helpful when you are designing a garden or purchasing plants. He closes each generic entry with a simple bilateral key to the species and suggested reading.
If you love herbaceous perennials and like to add new ones to your garden, this is a great reference book. You can find out all you need to know about hundreds of plants before you actually try them. There are not a lot of color pictures but the information presented is thorough and presented in a unique way so that you feel you know the plants after reading about them.
To buy Herbaceous Perennial Plants: A Treatise on Their Identification, Culture, and Garden Attributes at Amazon.com click here.