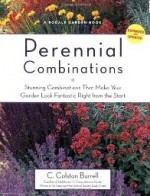 Every gardener has favorite perennials and has no trouble picking them out at the nursery. The hard part is picking out the ones that will both grow and look good together. This book addresses the problem with extensive photographs, diagrams, and explanations. It helps the gardener understand the basic concepts of the choosing effective plant combinations while also providing a wealth of concrete ideas that can be copied and modified to suit any gardener's taste.The opening section deals with matching plants to the site and the basics of good garden design. It focuses first on the importance of light, soil, and moisture in choosing plant combinations and explains the variations of each that the gardener is likely to encounter. A discussion of size, form, color, texture, and bloom time follows with attention paid to foliage as well as flowers.
The bulk of the text deals with over 200 specific combinations. The combinations are grouped by color, season, site conditions, and uses with a special section on creating a dramatic effect. You can find, for example, combinations with a single color or contrasting colors, for spring, summer or fall, for heavy clay or sandy soil, for attracting butterflies or enjoying fragrance, and much more. Each featured combination is presented with a color photo, a diagram with plant list, a discussion of the special features of the combination and how it will change with the season, growing tips, and a companion photograph with suggestions for modifying the featured combination to suit individual needs and taste. The section on creating dramatic effects deals with bold plants, sculpture and ornaments in the garden, as well as striking containers.
The final section of the book gives garden plot plans, mail-order sources for plants, and a reading list. A plant list and hardiness information accompany each of the 25 garden plot plans that cover diverse situations including gardens for woodlands, meadows and prairies . Other garden plot plans are given for a butterfly and hummingbird garden, shade garden, cutting and drying garden, color echo garden, and more.
The text can be used as a cookbook to produce a certain look or meet a certain need but is even more valuable for stimulating ideas and helping the gardener find his own way making pleasing plant combinations. The author, C. Colston Burrell, is a knowledgeable plantsman and garden designer and uses a large variety of plants in his plant combinations so finding them can be a problem. That does not change the fact, however, that the ideas are good and can be used as an inspiration for creativity.
To buy Perennial Combinations: Stunning Combinations That Make Your Garden Look Fantastic Right from the Start (Rodale Garden Book) from Amazon.com click here.