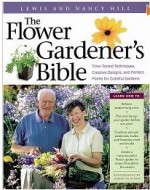 The phrase that first pops into my head when thinking about this book is "user friendly'. The authors, Lewis and Nancy Hill, have a casual, friendly style of writing that expresses their love for gardening as well as their wealth of knowledge. They write as though they are hands-on teachers rather than lecturers putting the reader immediately at ease and ready to learn more. Their approach makes the information easy to understand and inspires confidence for success?
The book is divided into three major parts covering all the basics of flower gardening. The first part explains all the nits and grits of creating and caring for a garden including design techniques, soil improvement, planting, propagation, pest control, and maintenance. The concepts and techniques discussed are lavishly illustrated with color photographs and diagrams. Insets give detailed information on selected topics such as distinguishing between different kinds of bulbs, the effective placement of lighting in the garden, and dividing iris
The second part of the book considers 23 different kinds of flower gardens. Starting with a design for a pathway, the authors give suggestions for creating wildflower gardens, seashore plantings, and a true blue border, as well as the more traditional rock garden, child's garden, and island beds. Each entry has a discussion of the general characteristics of the garden and an extensive list of plants to be used to achieve "the look".
The final part of the book is appropriate called "A Feast of Flowers", and it is just that. Detailed information on growing over 250 plants are presented, each with a large color photograph. Information includes bloom time, growing conditions, possible problems, propagation and hardiness zones along with good companion plants and the names of outstanding cultivars or varieties.
The authors of The flower Gardener's Bible are husband and wife and live and garden in Greensboro, Vermont where they have a small fruit farm. In the past, they operated a plant nursery, including a Christmas tree farm, and have been active in plant oriented activities for many years. They have also written several other books on various aspects of gardening. Their extensive knowledge is based on practical experience and a love for growing plants and they impart their knowledge as though they were the neighbor next door.
To buy The Flower Gardener's Bible from Amazon.com click here.