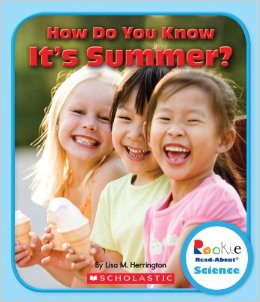 A picture of children in bathing suits eating watermelon introduces young children to summer in Lisa Herrington's book, How Do You Know It's Summer? A picture of the same tree in a landscape compares some of the significant aspects of the four seasons and sets the stage for further reading. The text shows long hot days of summer mean thunderstorms and the need to use sun screen to protect our skin and also how plants and animals flourish. People can spend more time outdoors, have gardens, go to the beach, and enjoy watching and engaging in sports.
Each concept is presented on a two page spread. One side has three to five lines of simple text while the other side features a photograph. Many photographs include children enjoying the various activities associated with summer. Fun Facts are included on some pages and we learn that a lightening bolt is many times hotter than the sun and that significance of the Fourth of July. Directions for making a sun print, suggestions for further exploring the characteristics of summer, and a simple glossary round out the work. Written for preschoolers, Herrinton's book is a good introduction to summer.
To buy How Do You Know It's Summer? from Amazon.com click here.