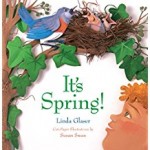 Linda Glaser's book, It's Spring!, celebrates the spring as seen through the eyes of a young boy. Written in the first person, the book explores the sensory delights that spring has to offer like feeling the softness of pussy willows on the check, smelling the clean fresh air, hearing the peepers and bullfrog sing, and seeing the flower buds swell. Readers can share the joy of planting a vegetable garden, splashing in a puddle, and blowing on a fluffy dandelion. The optimism and love of life that characterize spring is present on every page. Three pages of activities for spring conclude the work; especially appealing are watching ice melt in a stream, rooting pussy willow in a vase, and setting out hair to facilitate nest building by birds.
The paper-sculpture illustrations by Susan Swan are works of art and add greatly to the overall enjoyment of the book. They are bold, colorful, and have great depth. The text captures the freshness of spring but is an uneven mixture of rhyme and prose so can be a bit awkward when read aloud; sometimes the ends of the sentences rhyme, sometimes words in the same sentence do, sometimes there are no rhymes in either. Although written for children 4-6 years old, there might be too much text for the youngest ones, but the book is certainly a delight for the adult reading it.
To buy It's Spring! from Amazon.com Click Here.