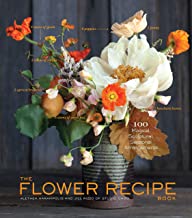 Authors and floral designers, Alethea Harampolis and Jill Rizzo introduce readers to the recipe approach to floral design that makes flower arranging accessible to anyone that wants to try their hand at the art. All aspects of flower arranging are covered from tools and containers to flower care and design details. With over 400 photographs and detailed instructions and tips for arranging 43 different kinds of flowers, the book provides inspiration as well as the techniques for incorporating flowers into the world of the reader.
After describing the needed tools, the authors suggest a large range of containers from vintage cans and jars, to rustic ceramic vases and fancy pedestal bowls. A chapter on essential techniques, including stem care, wiring, and stem stabilization, leads to an "ingredient chart" that organizes plant material into groups: base foliage and flowers, focal flowers, secondary flowers, bits (touches that add movement), and textual ingredients such as berries, pods, and wisps. I especially like this chart because it is very helpful in identifying the potential role of various plants in the final arrangement.
The vast majority of the book focuses on providing arrangements for specific flowers presented alphabetically beginning with allium and ending with zinnia. Each entry includes one or more arrangements each of which has a list of plants with stem count, container suggestion, and numbered, step by step directions for making the arrangement, accompanied by photographs of each step as well as the final product. Most entries include at least two recipes: one of the flower on its own and another of the flower paired with other plant material.
The arrangements tend to be loose, relaxed, and informal and run the gamut in style from single stems artfully placed in a vase to large, lush bouquets with many different kinds of flowers plus fruits, pods, and vegetables. Many of the flowers, like cosmos, nasturtium, and foxglove, are garden favorites while others, such as carnations, stock, and ranunculus, are florist flowers. Of course, geographic location makes a big difference to the availability of floral material so the location of the authors in San Francisco could be significant to their choices.
The Flower Recipe Book is a beautiful book and provides great inspiration as well as lots of sound information for arranging success. It claims to provide "seasonal arrangements" so I was surprised to see combinations such as tulips with bitterberries, dahlias, and pomegranates. In addition, some of the plant material is very expensive or unavailable in non-urban areas, so suggestions for substitutions would be a great addition.
To buy The Flower Recipe Book from Amazon, click here.