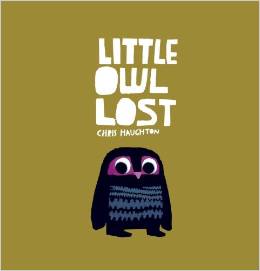 A little owlet separated from his mommy makes a great story for young children. Written for young children two to five years old, Chris Haughton's book, Little Owl Lost, retells a simple story in a new and refreshing way. Children can identify with Little Owl's experience and find comfort is the endearing end of the story.
Little Owl falls out of his nest while asleep and is befriended by Squirrel who offers to help him find his mommy. As Little Owl tries to describe is mommy, Squirrel brings him to meet various animals he thinks might fit the description including a bear (big), a rabbit (pointy ears), and a frog (big eyes). Each time Little Owl meets a new animal he cries "That's not my mommy". With the help of Frog, he finally finds his mother who has been looking for him. A treat of cookies in the owls' nest brings the story to an end but alas, in the last picture Little Owl looks drowsy and about to fall out of the nest again.
The simple repetitive text moves the story along and encourages young listeners to join in. The illustrations are bold and done in saturated, muted colors not often found in children's books. With its eye-catching pictures, sing-song text, and warm, delightful plot Little Owl Lost is good for reading to one or to a group of preschoolers.