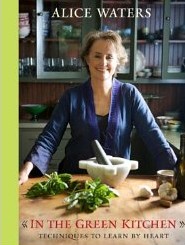 Alice Waters' philosophy of using sustainable, seasonal, local ingredients and cooking them simply to produce delicious, healthful meals is very appealing. This concept underlies her book, In the Green Kitchen, that sets out the basic techniques of cooking with recipes employing these techniques. Waters' idea is that once you learn the basic techniques of cooking by heart , you are freed from an over-dependence on recipes and the fear of improvisation.  Although the target audience may be young people who grew up on pre-packaged and processed foods, there is something in the book for cooks of every skill level.
You may think that you know how to make a salad but Water's instructions on how to wash lettuce and dress a salad might sharpen your skills. The accompanying recipes for a garlic vinaigrette and a cherry tomato and tofu salad tempt the palette and provide an opportunity to use the techniques described. In a similar way the book considers other basic techniques such as boiling pasta, wilting greens, roasting vegetables, filleting a fish, roasting a chicken and baking fruit, each with accompanying recipes. All through the book Waters provides hints and tips on cooking so we learn, for example, how to make wine vinegar, why using a pestle and mortar makes better pesto, and that a squeeze of lemon juice brightens flavor.  The book ends with chapters on seasonings and cooking equipment.
In the Green Kitchen grew out of an event in San Francisco called Slow Food Nation. Waters, as one of the organizers of the event, set up a demonstration kitchen with a diverse group of cooks who gave short presentations illustrating basic cooking techniques. Waters explains the techniques in her own voice and added recipes of her own. All profits from the book go to the Chez Panisse Foundation in support of Edible Education a program that aims to change the way children eat and how they learn about food in public school.
To buy In the Green Kitchen: Techniques to Learn by Heart from Amazon.com click here.