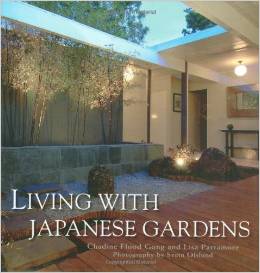 Authors, Chadine Flood Gong and Lisa Parramore, draw on are their wide experience designing Japanese gardens to show readers how the Japanese aesthetic can be used to create their own garden space. By the careful selection and placement of rocks, water, plants and ornaments,  the garden can be integrated with the home so that the gardener feels safe and protected as well as connected to nature. Neither the size, shape, or topography of the space nor the budget or life style of the homeowner is important to the process of discovering the essence of the landscape and Living with Japanese Gardens will show you how.
The authors organized the book around topics including reflection pools, garden for ikebana, capturing a view, dry landscapes, preserving the past, and a garden for all seasons. They use the case study methods to explore each topic drawing from their own designs as well as those of other renowned designers. Some of the high points are the use of black bamboo in the atrium of a house, a deep soaking tub with a view of a Japanese black pine, and the beach house garden with no plants. The many photographs add clarity to the text and can be used as an inspiration , whether you have a balcony, a suburb lot, or an extensive plot of land.
To buy Living with Japanese Gardens from Amazon.com click here.