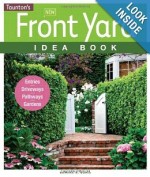 The front yard is the most public area of a home yet how many people spend the time and money to create an appealing space that welcomes visitors and reflects the pride and satisfaction they take in their homes? Sandra Soria's book, New Front Yard Idea Book, explores the many ways that a front yard can be enhanced so that a homeowner can enjoy not only a visually rewarding landscape but one that can both save money in maintenance costs and boost "curb appeal". The benefits of a well planned front yard are many and Soria's book can help you attain them.
Since the atmosphere of the front yard is dependent on the climate, architectural style of the home and site, as well as lifestyle, Soria begins by showing how to assess the situation and then plan to achieve the desired atmosphere. Subsequent chapters focus on specific areas such as the entrances, paths, driveways, and property boundaries, and consider lighting, ground covers, and softscape. Fences, gates, arbors, hedges, water features and plantings are discussed and suggestions are offered for sprucing up the appearance of garage doors. One of the most delightful chapters deals with formal and informal gardens styles suitable for the front yard and presents suggestions for container gardening, cultivating the strip between the street and the sidewalk, and growing edibles in an attractive fashion.
The text is easy to read and is highlighted by a multitude of photographs. These pictures are fantastic! They show many different styles of homes on sites from all across the country so everyone can find examples of what they might like to do with their own front yard. Each pictures is accompanied by an extensive caption explaining the contents of the picture and the desirable elements in it. Combining the ideas from both the text and the pictures results in a huge number of fabulous ideas to inspire the interested gardener. This book will not tell you how to lay a stone path or build a stoop but it will show you how much a path or stoop will add to the front yard and inspire you to incorporate them in your landscape plans.