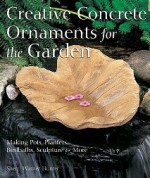 Concrete offers many possibilities for creating garden ornaments and Sherri Warner Hunter's book, Creative Concrete Ornaments for the Garden provides you with all you need to know to get started. Whether you are a novice or an experienced artist you will find both an abundance of material to stimulate creativity and special techniques to help you turn an idea into a reality. If you have the willingness to try something new this book will guide you through the process of fashioning concrete into something beautiful beginning with simple projects and culminating in complex ones.
The first two thirds of the book are devoted to the basics including ingredients, tools, constructions techniques, and surface treatments. You learn about the various kinds of concrete, mixing it by hand or machine, making molds and armatures, and modeling, carving coloring, and polishing concrete. Recipes for twenty one different concrete mixes are given! Step by step instructions with numerous pictures are given for all the techniques described. In addition, photographs of projects created by concrete artists using the techniques are included to show the potential each technique can provide.
The remainder of the book is devoted to twenty five projects presented by skill level beginning with the easiest and advancing to the most complex. One of my favorites is the mushroom garden featuring individual mushroom made by sandcasting. Each one is unique and some feature pebbles or shells pressed into their caps. Another beautiful project is the leaf bowl in the shape of an elephant ear leaf that can be used as a drain sprout or birdbath. If you want to add animals to the garden try the chicken made on an armature and adorned with feathers cut from clay flowerpots. Each project has a list of materials, step by step instructions, and an illustration of the completed project. If mushrooms, chickens, and elephant ear bowls are not for you, there are plenty more projects to choose including planters, side table, garden bench.
If you have any interest in creating ornaments with concrete, this is a great book to have in your library. The numerous pictures featuring projects created by concrete artists get your juices flowing and the detailed instructions of basic techniques provide the know-how. The section on the projects is the icing on the cake; you can use it like a cook book or just let it inspire you. Either way, you are in for a treat with this book.
To buy Creative Concrete Ornaments for the Garden: Making Pots, Planters, Birdbaths, Sculpture & More from Amazon.com click here.