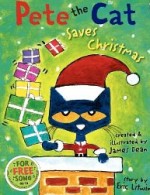 Fans of Pete the Cat know that Pete is a cool, likeable guy, with a positive attitude and he shows himself to be just that in Eirc Litwin's Christmas story about Pete. Suitable for children ages four to eight, the book is a parody of Twas the Night before Christmas written in the same kind of rhythm but infused with modern updates. A catchy song that is an integral part of the story is available free from the publisher and adds to the fun.
In the story, Santa is sick and needs help delivering present on Christmas eve. Pete the Cat eagerly agrees to help adding that he will "give it his all". And he does. He goes off to the North Pole in his mini-bus, gets the presents and reindeer, and flies around delivering presents (yes, in the mini bus drawn by reindeer). As Pete the Cat goes about completing his task, the song, "Give it Your All" reoccurs on the pages, and in your mind if you have listened to the publishers free download. Be sure to check out the download and hear the song written by the author; the song is groovy!
The whimsy of the story and Pete the Cat's demeanor is complemented by the colorful, sketchy illustrations of James Dean, creator of the character, Pete the Cat. The strong rhythm of the text and the many rhyming words carry the action along and appeal to young listeners. The little yellow bird that follows Pete around adds another dimension to the enjoyment of the book and children search for it on two-page spread. Fun read for Christmas!
To buy Pete the Cat Saves Christmas from Amazon.com click here.