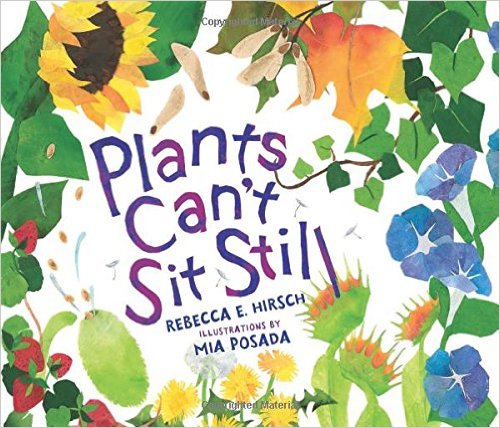 The first sight of Rebecca E. Hirsch's book, Plants Can't Sit Still, tells you that it is unique; the title is thought provoking, the colors lively, and the words dance across the cover. Common, you think, plants can't sit still? What is that all about? You are compelled to look inside and the contents don't disappoint. Written for children five to eight in grades k to 3, the text engages the reader right from the beginning.
Plants move in many different ways and Hirsch explores them with imagination and insight. She shows how they slither, wiggle, and crawl as they grow, how flowers fold up and leaves nod at night, how plants swoosh, bounce, and explode as they spread seeds, and how seeds whirl, glide, and float to new places. A wide variety of plants are used to illustrate the points from common ones like sunflowers, dandelions, and morning glories, to less familiar ones like begger-tick, cocklebur, and Russian thistle. If you don't know much about these plants, don't worry because at the end of the book there is a additional information for interested kids and adults that tells about the plants and provides a glossary of important words such as tendril, germinate, and pollinate.
The work is enhanced by bright colorful illustrations created with cut paper collage and watercolor. The text itself varies in color from page to page with verbs highlighted in a contrasting color. The lines of the text whimsically skip across the page and the spacing of the words is irregular both adding to the animated and dynamic appearance of the book. This book is a treasure for both its content and presentation.
To buy Plants Can't Sit Still from Amazon.com Click Here