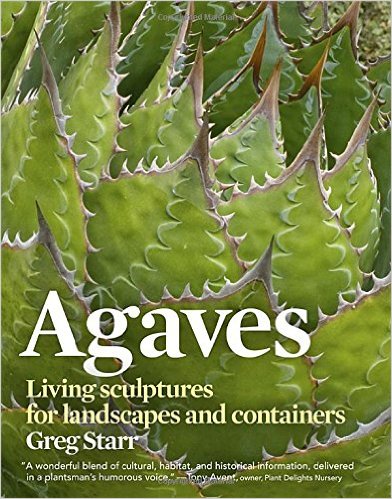 Agaves are a varied genus that is quickly attracting admirers as xerscaping becomes more desirable . Gregg Starr's book, Agaves: Living Sculptures for Landscapes and Containers, introduces readers to over seventy five different agaves and shows how attractive and versatile the genus is. Drawing on his broad experience with agaves the author focuses on those that are best suited to gardens and containers, giving a wealth of information on many aspects of agave cultivation.
After presenting general information about agaves including reproduction, distribution, horticultural history, and taxonomy the author discusses the places worldwide where agaves can be grown, how to plant and water them, the pests and diseases that might be encountered, size categories, and cold hardiness. The bulk of the book is an encyclopedia of agaves and provides detailed information on both well known species and species that are newly described or gaining in popularity. Each entry includes several pictures of the species showing it in its natural habitat and at different stages from youth to maturity, with field notes on such environmental factors as soil, exposure, and surrounding vegetation. The entry also includes a detailed description of the plant, growing suggestions aimed primarily at gardeners in various parts of the US, and tips for using the plant in the landscape including plant companions. Final portions of the book give guidelines for distinguishing different agaves with similar characteristics, a list of agave species by size categories, a glossary, a bibliography, and a index of plant names.
If you are interested in growing agaves in either the garden or in a container, this is an excellent source especially since there is very little available information on the subject. The photographs are beautiful and convey the nature of the plants in their habitats, and the text is easy to read and personable. Choosing the right agaves for your garden will be made much easier by using the information presented in this book.
To buy Agaves: Living Sculptures for Landscapes and Containers from Amazon.com Click Here.