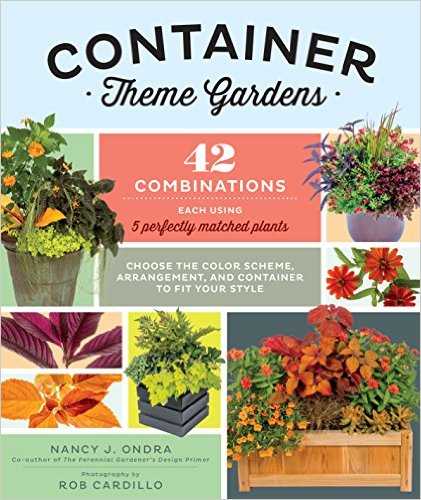 Container gardening is versatile and can be the perfect way to enhance your garden or bring color to a patio or balcony. Nancy J. Ondra's book, Container Theme Gardens, gives you forty two plant different container garden each using only five plants. The author presents a wide spectrum of information on containing gardening so whether you have no experience or lots of it, you will find something special to copy or get your juices flowering to create something all of your own.
Ondra begin by pointing out the many advantages and virtues of container gardening and then moves on to techniques including step by step planting instructions. The bulk of the text is devoted to the container plans with several pages devoted to each. The entries are presented in groups based on a common focus such as color, seasonal interest, and container location. You can find popular favorites such as containers designed to attract butterflies or bloom in the shade as well as more unusual ones like using black plants, creating a pond in a pot, or appealing to a small child. If you want a salad in a pot, a container to enhance a summer night, or a tropical arrangement, you will find it here. Each entry has a full color photograph of the container, a plant list with both botanical and common names, light requirements, a description of each plant, and a list of alternative plants. In addition, a description is provided of the container as the season progresses from spring until fall, and a section called Tibits, Tips, and Tricks gives you additional information so you can modify the basic plan and can anticipate possible problems and avoid or solve them. None of the plants that are cited in the book are unusual but you will probably not find a lot of them in big box stores; hey are the kind of plants that are found in large, top-quality garden centers.
This book can be used as a container recipe book or as the launching pad for your own designs. Although only five kinds of plants are involved in any given plan, there are so many alternative suggestions that you can personalize them so that they are truly your own. Once you get the hang of making good substitutions the sky is the limit and you can go to a garden center and pick out your own plants based on the principles you have learned from the book. Exceptional book!
To buy Container Theme Gardens from Amazon.com Click Here.